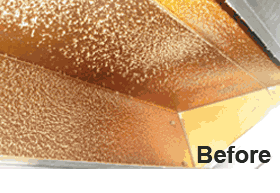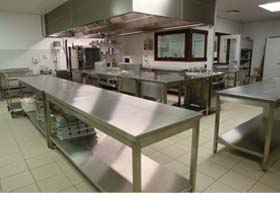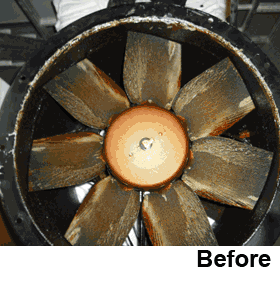 GREASE CANOPY CLEANING
Recent studies have shown that losses may not be recovered from insurers if building owners and managers do not have a satisfactory and competent cleaning regime supported with evidence that the system has been fully maintained and certified.
Risks
Cooking extract canopies, components and duct work will accumulate layers of grease over time.
Canopies are connected to a duct mounted fan which extracts air from the canopy either up through the building to roof level or horizontally to an external wall. This means that although your canopy is located at ground floor the duct work may be passing through several floors of your building before terminating.
In the event of a fire breaking out the fan will cause the flame to be sucked into the duct work connected to the canopy.
Grease laden duct work will ignite, which in turn can enter various locations of the building due to faulty joints or deformation of the duct work - due to the intense heat and can result in extensive fire damage.
Apart from the obvious fire risk, there is also the risk that the build up of grease in the cooker extract will lead to excess grease forming on components such as filters, fans and external wall/roof louvers. This will lead to under-performance and expensive replacement of parts..
Client Service
With our knowledge and experience in the duct work industry we provide the following services for our clients. It is a must in any commercial kitchens HACCP schedule:
Initial site visit and visual inspection of extract system/components.
Deposit Thickness Testing (DTT) of grease laden duct work.
Selection of appropriate cleaning method for specific project.
Risk assessment.
Method Statement.
Post cleaning inspection.
Cleaning report issued along with before/after digital imaging and any recommendations that we may need to highlight to client.
Certification of ventilation system to the HVCA TR/19 standards.
Legislation
It is now a common clause in an insurance policy that the owner "must employ the services of a specialist contractor to annually clean and maintain the ducting which forms part of the extraction system"
The workplace health, safety and welfare act 1992 require mechanical ventilation systems to be cleaned and maintained.
HACCP to comply with all health board issues and cleaning schedules
Managers/Owners have a duty to ensure a safe place of work for their employees
Codes and Standards
Grease extraction duct work will be cleaned and maintained to the guidelines set out in the HVCA TR/19 code of practice (internal cleanliness of duct work).
This standard is the most sought after standard from the association of Irish insurers and building maintenance engineers.
Frequency of Cleaning
Most insurance companies will seek cleaning and maintenance of extraction systems on an annual basis, however it will mainly depend on the following:
Type of cooking taking place at canopy in question
How often is the canopy in use (hours per day)
Design of the canopy and associated duct work/components
HVCA also advise the duct work to be cleaned as per below chart:
Heavy use (12 – 16 hours per day) every 3 months
Medium use (6 – 12 hours per day) every 6 months
Light use (2 – 6 hours per day) annually